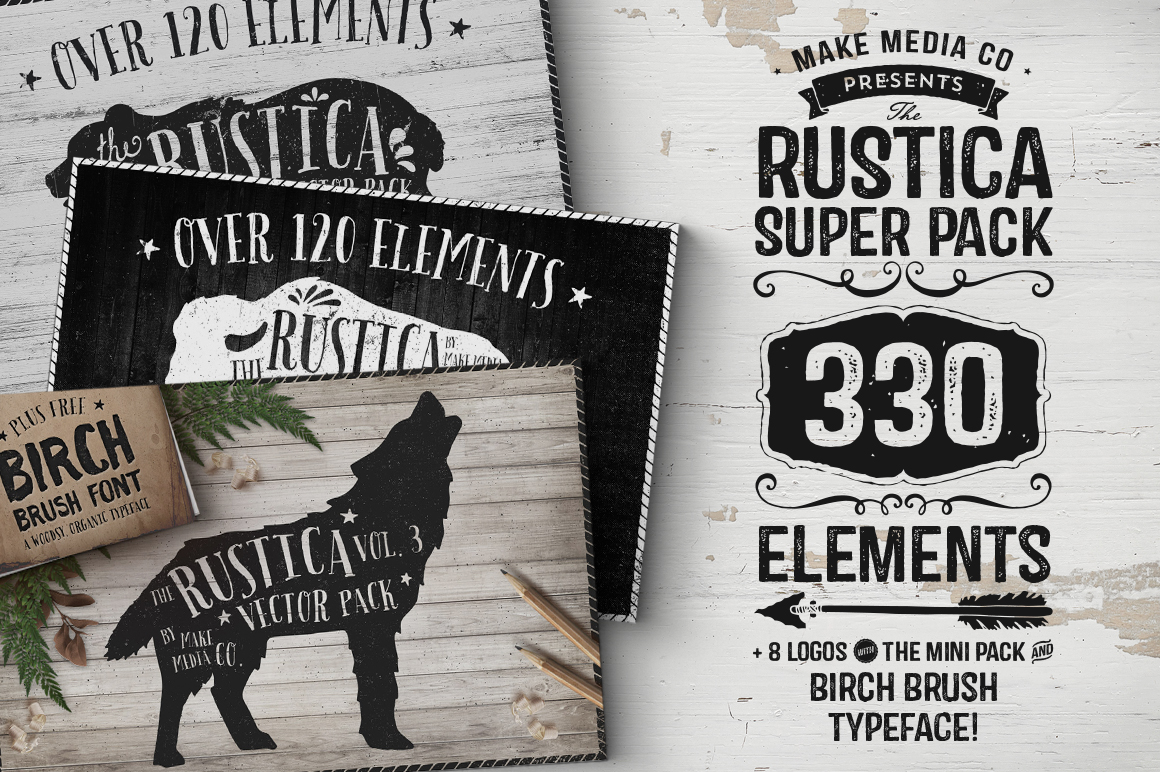 The Rustica SUPER Pack
+++++ REQUIRED SOFTWARE: ADOBE ILLUSTRATOR CS OR NEWER +++++
Looking for a whole bunch of rustic goodness at a sweet price?! Then I've got the pack for you! This new bundle includes more than 330 unique vectors (almost double that with mirrored vectors), 8 typographic logos, the Birch Brush Typeface, 1 bonus texture, 1 bonus brush and the Rustica Mini Pack (with over 40 additional illustrations) for only $23! Now, that's one sweet deal!
Here's what you get:
• Over 330 unique, hand-drawn vector elements (No duplicates counted). • 1 Subtle Vector Texture in 2 colors (Found in the 'Logos' file). • 1 Rope Brush Pattern (Just drag graphic to brushes panel. Instructions included). • 8 ready-made logos with editable text (Illustrator only). • Help File with all the font links you'll need. • Bonus Mini Rustica Mini Pack with over 40 items. • Birch Brush Typeface.
You can check out the original listings here, or click on the previews and scroll down to see all the vectors.
Rustica Vector Pack Vol. 1 http://crtv.mk/sbIf
Rustica Vector Pack Vol. 2 + 8 Logos http://crtv.mk/caeo
Rustica Vector Pack Vol. 3 + Birch Brush Font http://crtv.mk/eqoQ
If for some reason you're not happy with this product, please just send me a private message and tell me what I can do. As always, I'm more than happy to help! :)
sale
End User License Agreement
MakeMediaCo. Licensing
By purchasing this product, you are agreeing to be bound by the terms of this Agreement.
1. Allowed uses
You may use the licensed fonts/graphics to create images on any surface such as computer screens, paper, web pages, photographs, movie credits, printed material, T-shirts, and other surfaces where the image is a fixed size.
You may use the licensed fonts to create EPS files or other scalable drawings provided that such files are only used by the household or company licensing the font.
2. Number of users
Each font or product is licensed to a single user. Each user may install fonts on up to two devices (i.e. A Laptop & Desktop).
3. Third parties
You may provide the font to a graphic designer, printer or other service bureau that is working on your behalf only if they agree to use the font exclusively for your work, agree to the terms of this license, and retain no copies of the font on completion of the work.
You may not provide the font or make it accessible to any other third parties.
4. Embedding
You may embed the licensed fonts into any document you send to third parties. Such documents may be viewed and printed (but not edited) by the recipients.
You may not under any circumstances embed the licensed fonts into software or hardware products in which the fonts will be used by the purchasers of such products.
5. Modifications
You may import characters from the font as graphical objects into a drawing program and modify such graphical objects.
You may not modify, adapt, translate, reverse engineer, decompile, disassemble, or create derivative works based on the licensed font itself without Foundry's prior written consent.
6. Copyright
The fonts/products and the accompanying materials are copyrighted and contain proprietary information and trade secrets belonging to MakeMediaCo. Unauthorized copying of the Product even if modified, merged, or included with other software, or of the written materials, is expressly forbidden. You may be held legally responsible for any infringement of the foundry's intellectual property rights that is caused or encouraged by your failure to abide by the terms of this Agreement.
7. Termination
This Agreement is effective until terminated. This Agreement will terminate automatically without notice from MakeMediaCo. if you fail to comply with any provision contained herein. Upon termination, you must destroy the written materials, the Product, and all copies of them, in part and in whole, including modified copies, if any.
8. Product Upgrades
MakeMediaCo. may, from time to time, update the Product.
9. Disclaimer and Limited Warranty
MakeMediaCo.'s entire liability and your exclusive remedy as to a defective product shall be, at MakeMediaCo.'s option, either return of purchase price or replacement of any such product that is returned to MakeMediaCo. with a copy of the invoice. MakeMediaCo. shall have no responsibility to replace the product or refund the purchase price if failure results from accident, abuse or misapplication, or if any product is lost or damaged due to theft, fire, or negligence. Any replacement product will be warranted for twenty one (21) days.